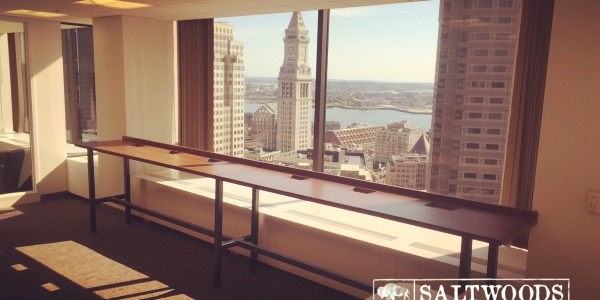 Looking for a reclaimed wood coffee table that will bring people together? If you want to create more functional space in your workspace, this blog is for you.
Custom coffee tables bring people together and foster community with a welcoming space for like-minded people to gather. Something important to think about when planning is what type of working surface is available in the space. Use unique materials to create beautiful furniture to help make the space functional and encourage people to spend time there.
Reclaimed wood and natural wood are great choices for materials to create anything from countertops to shelves to desks to tables. Keep reading to view some breathtaking examples of real live edge coffee tables we've built at Saltwoods.
Promote Openness and Sharing
Creating communal spaces with reclaimed wood promotes openness and allows people to gather and share. Generally, live edge tables can set apart your space for all visitors.
Libraries, common areas on campus, and your corner coffee shop are examples of great places to meet and socialize. People love warm, welcoming spaces, and the comfort level encourages them to stay and enjoy themselves.
To cultivate an inviting space, consider decorating the area with reclaimed wood and materials that provide character and uniqueness to the room. There are plenty of types of wood to choose from, including reclaimed oak, ash, walnut, and more.
Farmhouse Coffee Tables at Home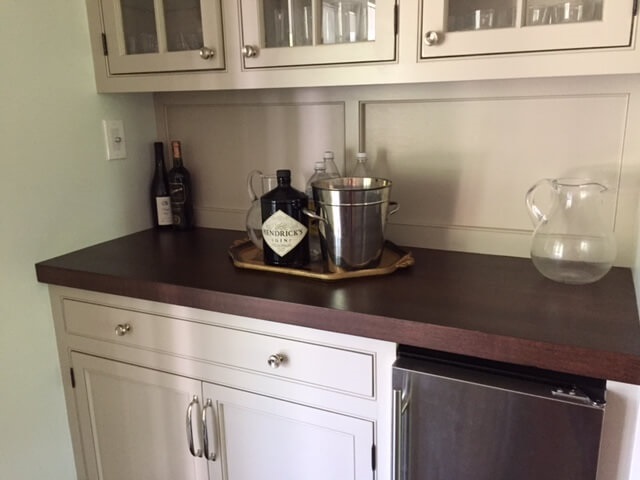 (Pictured: Custom-designed home wet bar)
For a less-trafficked area, perhaps consider a more expensive option for your reclaimed wood choice.
Reclaimed oak is an excellent option. While it is a little more expensive, it offers charm, patina, and warm brown color.
Reclaimed oak is also generally over 150 years old with lots of character. Signature design elements come from nail holes, checking, and tonal changes throughout the wood grain.
Some great recycled wood furniture ideas for reclaimed oak include:
Firstly, farmhouse coffee tables;
Secondly, a desk for your study;
Thirdly, a dining room table;
Fourthly, a couch side table.
White oak makes a great wood choice for a home wet bar or kitchen surface countertop. It acts as an alternative for more high-traffic areas in the home.
Reclaimed Wood Coffee Table Counters in Colleges
How do you choose what surface to have made for the space? Think about what the purpose of the room is.
In an educational setting, it's ideal for students to foster community and build relationships. Social development in these years will shape the remainder of their lives.
Make your communal spaces as beautiful and enjoyable as possible.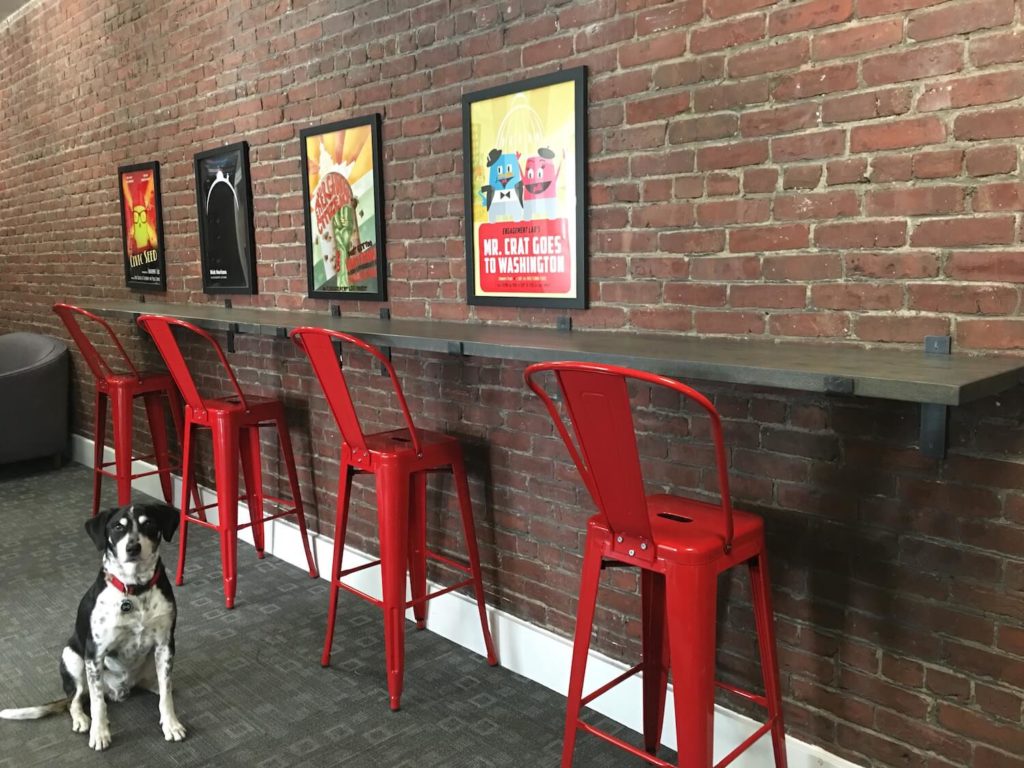 (Pictured: Handmade wood countertops for Emerson College made from stained ash)
Think about the function of each communal space. Are you looking to provide space for students to grab a quick bite? Consider a few tables and chairs with a countertop to create more surface area. That way, students can stand and chat with a coffee for a few moments.
Our locally-made wood countertops made for Emerson College commons are a beautiful, functional addition for students to enjoy. As a result, the countertop uses ash.
Ash is a popular material in restaurants as it is a hardwood that is super friendly for the budget. You can also stain ash in various colorways, including grey, espresso, and black, or left in its natural color.
Live Edge Coffee Tables in the Office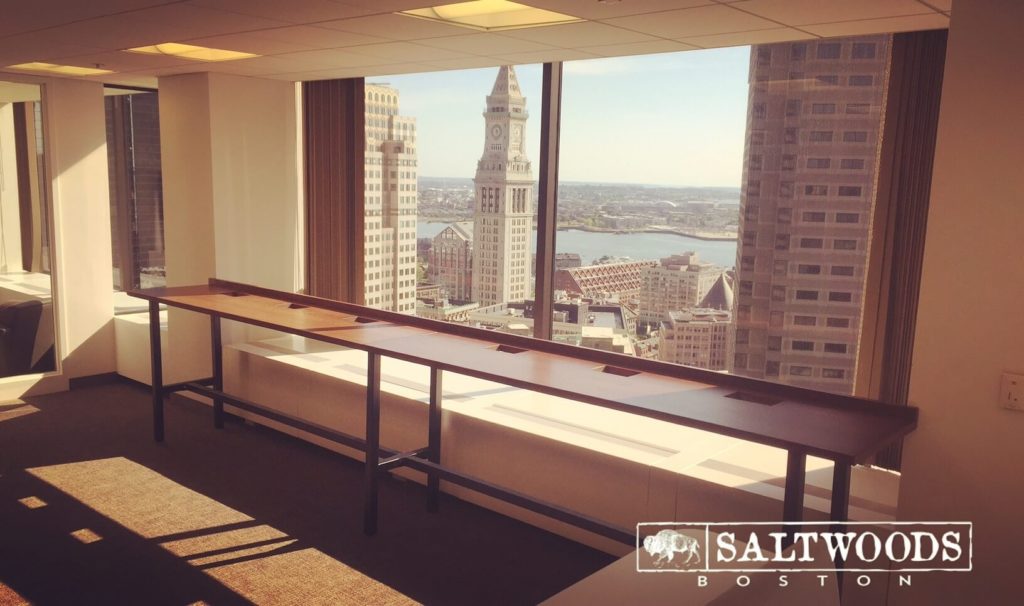 (Pictured: Office work area overlooking view of Boston)
Getting back to your break room is tough, with so many meetings and projects tying you up at work. It's valuable to have a hub where people might be able to gather between meetings. Sometimes people even work better standing up.
For instance, a long counter workstation in front of a beautiful view might be the perfect addition to an office. Provide an agreeable solution from sitting at one's desk facing a drab cubicle wall all day.
Moreover, encouraging people to work together in the same place invites collaboration and social innovation among officemates. Depending on the office budget, there are various wood options, including ash, reclaimed oak, maple, and birch.
Design Your Own Locally-Made Reclaimed Wood Coffee Table
Please feel free to contact us with your dreams, designs, and ideas to create or improve your own gathering space. Get an estimate for a reclaimed wood coffee table or custom couch side table that best suits your needs.
Boston's Custom Wood Furniture Experts
Saltwoods is a dedicated team of wooden table manufacturers who love using our hands to fabricate sturdy, functional, custom coffee tables that cherish the real character of the wood. We show up early and work hard, doing our part in rejuvenating American furniture manufacturing one project at a time. Our wood supplies originate from trade with Boston-area businesses, local mills, and salvage operations. We can fully customize your live edge coffee table, including the base, legs, shape, and design.
If you're looking to accentuate your handmade wooden table with furniture leg styles, please visit our sister site Högbo Metal for more information.