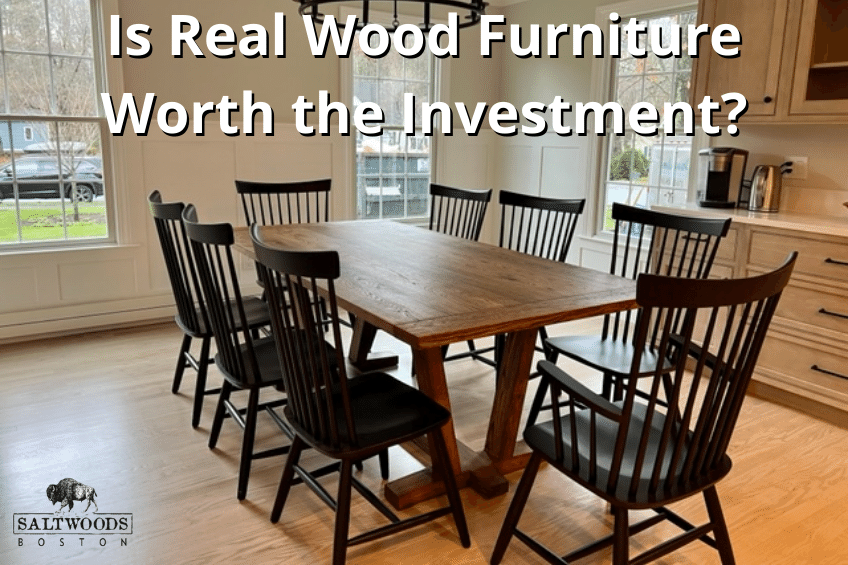 Real wood furniture has never gone out of style. For ages, wood has been the preferred material for high-quality and premium furniture, both for the office and home. However, the evolution in science and technology brought cheaper alternatives made with materials like plastic, steel, acrylic, and aluminum. There is something timeless about a handmade wood table, especially if the material used is solid wood. 
Many homeowners find it difficult to decide what type of wood furniture to purchase when looking for furniture. The choice is primarily between real wood furniture and others, considered lower-end options consisting of veneer, metal, or plastic material. 
The decision is whether to purchase high-quality wood furniture or not and if the extra cost of this type of wood furniture is worth the investment. Let's now look at what genuine wood furniture is and why the initial cost tends to be higher than other options. 
The Advantages of Real Wood Furniture
Solid wood furniture refers to any furniture made from real, natural hardwood. And not from steel, board, plastic, and other synthetic materials. Furniture made from real wood such as maple wood, oak wood, or solid pine will last much longer than processed wood. 
Genuine wood furniture is built almost exclusively with solid wood materials, so it doesn't have any plywood or fiberboard. It is possible to spot authentic wood furniture with all-wood joinery that uses a few screws and nails if at all they are needed. Because nails and screws don't last long, wooden joints can offer a great replacement.
Although realm wood materials are more time-consuming and labor-intensive to craft, nobody can deny that solid wood furniture looks absolutely stunning, versatile, and very easy to maintain. And so many of these qualities because solid wood materials can be readily hand-crafted, paving the way for homeowners and office managers to request their custom wood table and other furniture. 
Top 7 Reasons Why You Should Invest in Real Wood Furniture
Money is an important factor to base any decision on, and it's normal to wonder whether real wood furniture is worth the investment, considering there are cheaper alternatives in the market. 
As you can see, there are so many benefits of buying genuine wood furniture despite the extra initial cost. These advantages pay off in the long term. 
Let's take a closer look at some of the most compelling reasons to choose real wood furniture:
Real Wood Furniture Is Very Durable
It is very rarely durability is not a factor when buying furniture. Undoubtedly, one of the greatest benefits of authentic wood furniture is extreme durability. Whether you need a kitchen table or an office desk, some specially crafted wood furniture lasts for nearly 100 years. And with the right care, they certainly do. You can still find several vintage pieces handed down over generations, including antique market furniture pieces 75, 80, or 90 years after production. 
Real Wood Furniture Is a Sound Investment
Savvy investors will recognize a good deal when they see one. Quality wood furniture lasts for so long that the initial extra cost saves you a lot of money. The reason is simple: less durable furniture made from cheaper quality material needs replacing far more frequently. So the choice is really between genuine wood furniture, which represents a lifetime solution, or cheaper wood furniture which is essentially a stop-gap solution. 
Real Wood Furniture Is Uniquely Stylish
Solid wood all have a natural variation in the grain of the lumber. This benefit means a custom wood table with real wood has a unique style and character compared to other furniture. Combined with its natural crafting, real wood's natural warmth, look, and character enhances the personality and character of any room. 
Real Wood Furniture Is Easily Transformable
You may be apprehensive about having furniture last 50 years with the same look all through that time. However, the nature of real wood means you have plenty of options for new sizes and shapes. Sanding, staining, and finishing are convenient techniques to completely change the look and feel of your solid wood furniture. Rather than change them prematurely because you're bored of the old look, transform your solid wood furniture into something completely new. 
Real Wood Furniture Is Easy to Clean and Maintain
No special or intensive maintenance practice is needed to get the best out of your wood furniture. Just the regular dusting is enough. The odd wipe will do when you spill food or liquid on the table surface. General tips for protecting wood furniture can come in handy too.
Real Wood Furniture Is Environmentally-Friendly
Investing in genuine wood furniture means you contribute to a healthy environment. Unlike other synthetic materials used for making home and office furniture, real wood is biodegradable. Furthermore, high-quality wood furniture originates from sustainable materials. Trees harvested can be easily replaced by planting new ones. 
Real Wood Furniture Is Versatile
Whatever your style is – vintage, minimalist, industrial, rustic, coastal, transitional, or traditional – genuine, hand-crafted wood furniture can suit your space and style. 
Live Edge Wood vs. Traditional Wood Furniture
The term "live edge" refers to the natural edge left on at least one side of wood furniture. More traditional wood furniture spots sharp, clean lines mostly altered by hand or woodworking machinery. 
The untouched end of the live edge furniture retains the original characteristics of a tree, its shape, and its bark. Knots and cracks are often left the way they are to become special features of the live edge table. 
Live edge wood is increasingly becoming a stable of experienced and talented furniture makers. The live edge designs help you bring the outdoors into your home in more functional, modern, and natural furniture. 
Live edge is a one-of-a-kind piece of furniture. Delivering more options when picking tables that traditional wood furniture can't match. You can select live edge wood according to species, woodcut, colors, texture, and more. 
Key Takeaways
So, there you have it. It doesn't matter whether you're finishing a reclaimed wood dining table, wooden table legs, or wood table leg styles. You can narrow down your options using our guide above. Bring us your creative ideas if you're ready to install a live edge table in your home or business. We'll assist you in producing a top-notch piece of wooden work. Our exceptional designers and artisans can help you by pairing the best metal legs or wooden legs with your table.
Boston's Handmade Wood Table Experts
Saltwoods is a dedicated team of craftsmen who love using our hands to fabricate sturdy, functional pieces of furniture that cherish the real character of the wood. We show up early and work hard, doing our part in rejuvenating American manufacturing one project at a time. Our wood supplies originate from trade with Boston-area businesses, local mills, and salvage operations. We also offer full customization of your live edge table, including the base, legs, shape, and design.
If you're looking to accentuate your handmade wood table with custom metal table legs, please visit our sister site Högbo Metal for more information.