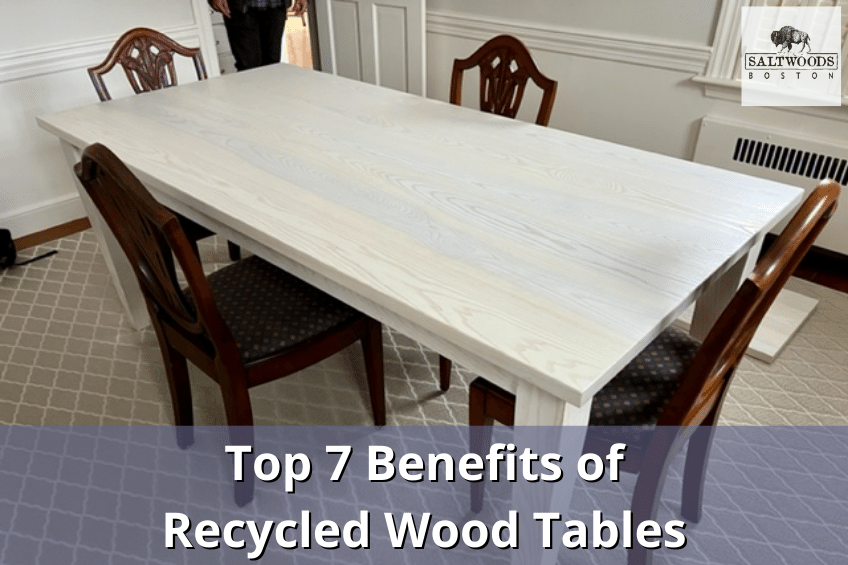 Recycled wood tables are an eco-conscious choice. They use repurposed wood from other products that normally end up in landfills. The waste material from this process instead becomes a beautiful and durable table.
On average, in 2021, about 6.940 million tons of solid waste got generated and 3.830 million tons recycled. There was a significant improvement in the recycling rate of wood waste. It increased from 64% in 2020 to 76% in 2021.
Aside from cutting back on landfill waste, there are many benefits to switching to recycled tables.
1. Recycled wood tables are eco-friendly
The earth is running out of natural resources – and we need to be more mindful of the products we purchase and use in our everyday lives. By purchasing a reclaimed wood table, you show your commitment to the environment and help conserve one of the earth's most valuable commodities – trees.
Recycled wood tables are a great eco-friendly option for homes and offices. They have a low impact on the environment. This reduced carbon footprint is because they do not require new materials to be cut down and processed, which would release carbon dioxide into the atmosphere. By buying them instead of tables made from new timber, you help save trees and reduce greenhouse gas emissions by a huge margin.
2. Recycled wood tables limit deforestation
Deforestation is a leading cause of global warming and climate change. The high demand for timber causes mass deforestation to the point where many forests disappear. These trees usually turn into pulp paper or fall to make room for land development.
Most importantly, the world needs more trees. Trees are our earth's lungs. They provide oxygen, regulate climate, and provide habitats for wildlife.
Handmade wooden tables can save the earth in more ways than one. Choosing to buy recycled custom wood tables has many benefits. Recycled wooden table manufacturers reuse old wood that would otherwise turn into kindling or end up in a dump. This recycling saves the rainforest, reduces your carbon footprint, and prevents further deforestation. 
It also reduces the necessity of using new wood, which takes years to grow.
3. Recycled wood tables mitigate landfill waste
Recycling wood reduces the amount of garbage sent off into landfills or incinerators, which means less pollution in the air when these items decompose or burn up their way through the atmosphere.
Local table makers must ensure that as little wood as possible is in landfills.
4. Recycled wood tables preserve history
Recycling old furniture is becoming increasingly popular these days, not just because it helps the environment but also because it preserves history. It is interesting to share a table with such a tremendous history. Your table guests will appreciate your commitment to preserving nature.
When you purchase a table made from recycled wood, you're not just buying an item of furniture; you're buying into the history of that object. Salvaged wood is much easier to treat and care for during your lifetime. Read our blog on proper reclaimed wood care and maintenance to learn more.
Overall, it has an interesting backstory and provides a level of sustainability and quality that you won't find in more conventional products.
5. Recycled wood tables have unique rustic aesthetics
Many people want to find something unique and beautiful when looking for tables. You may want a table that will stand out in a room and provide an extra level of sophistication. One way to achieve this is to purchase a table made from recycled wood. These tables have a rustic theme which compliments any interior style. 
Your local table makers can add a rustic touch to any interior design. Handmade wooden tables have a timeless aesthetic that is perfect for all homes and offices. The natural aging and imperfections of the furniture create a unique look you can't have from other choices. 
A stunning focal point for any home, it will leave a lasting impression on anyone who visits.
6. Recycled wood tables are more durable than traditional wood
Unique, rustic, old-style furniture with a more natural look makes for a great investment in your home. One of the many benefits of investing in handmade wooden tables over newer ones is that they can hold out against pressure, wear, and damage.
Recycled wood is less susceptible to splitting, which makes it significantly stronger. This strength comes from prolonged exposure to extreme temperatures, which causes the wood to expand. As a result, the wood becomes flexible, robust, and hardy.
Although recycled wood furniture is more expensive, it is tougher and less prone to warping. That's why real wood furniture is worth the investment.
7. Recycled wood tables are more sustainable than old-growth wood
Old-growth timber comes from trees that grew over hundreds of years, trees that belong to old and large forests. These forests grow slowly and require centuries to reach maturity. They are a source of high-quality wood, but the timber is not readily available for purchase.
Recycled old-growth wood leaves old-growth forests untouched till they reach maturity. Buying recycled old-growth wood tables maintain the forests because instead of cutting down a new one, you're recycling perfectly usable wood.
Key Takeaways
The benefits of recycled wood tables are many. The wood, sourced from eco-friendly operations and reused in ways that are beneficial to the environment, is unique, making them an attractive choice for many homeowners. The tables can look spectacular and work in any decor setting, from industrial lofts to country homes. 
In short, if you're looking for a new table for your home and want to get something out of it ecologically, you should consider getting one.
Ultimately, whether you choose a handmade wooden table for its unique and natural look or the environmental benefits, you can be sure that you'll enjoy your choice for many years.
Boston's Custom Wood Furniture Experts
Saltwoods is a dedicated team of wooden table manufacturers who love using our hands to fabricate sturdy, functional, custom wood tables that cherish the real character of the wood. We show up early and work hard, doing our part in rejuvenating American furniture manufacturing one project at a time. Our wood supplies originate from trade with Boston-area businesses, local mills, and salvage operations. We fully customize your live edge table, including the base, legs, shape, and design.
If you're looking to accentuate your handmade wooden table with furniture leg styles, please visit our sister site Högbo Metal for more information.