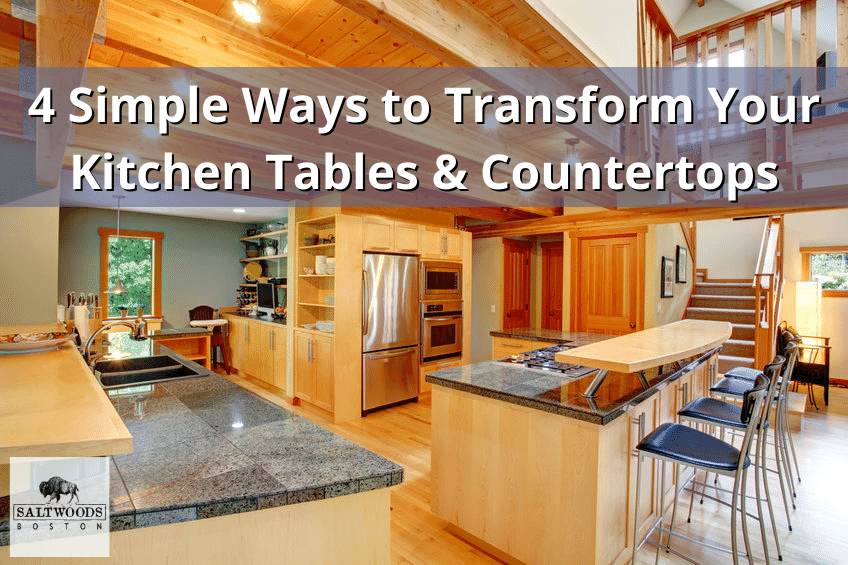 Nothing beats the feeling of a transformed kitchen table, fresh paint, new or painted cabinets, and a refreshing, clean look. It can be easy to spruce up your kitchen space with many easy, inexpensive ideas – modern kitchen appliances, dishwashers, and functional designs to get a transformed kitchen.
Also, the interior design trends in modern homes are giving homeowners new inspiration for their gray kitchens. Real wood furniture is especially popular in newer homes.
Whether you want to remodel or redesign your space, here are four easy ways to add flair to your kitchen and transform it from basic to extraordinary in no time.
1. Transform Your Kitchen Countertops
There is no doubt that custom kitchen countertops play a big role in the overall design of your space. Many options will instantly revamp your kitchen, from granite to quartz to cedar countertops. But what are the best ways to make them stand out and add some wow factor? Here are some ideas:
Kitchen countertops come in a variety of materials. When choosing a material, consider your preferred style and the look you are trying to achieve. Be sure to choose one that will match your style and décor. Designers are more creative than ever and use different materials, like concrete and tile, for their countertops. Make sure you add these to the list of your supplies.
Shop around for inspiration. Once you have a general idea of what you want your cabinets to look like, it is helpful to browse through home improvement magazines or pictures online to get some inspiration. This step will help give you a better idea of what is possible and help narrow down your options.
Choose a kitchen countertop material that is durable and easy to maintain.
2. Retouch Your Kitchen Cabinets
The right cabinets can turn a dreary and outdated space into a beautiful and functional one. They provide essential storage and organizational space, but they also set the tone for the overall look and feel of the room. Changing your cabinets is a great way to give your kitchen a quick and easy makeover.
Don't want new cabinets but still want a fresh look for your kitchen? Create a fresh and sleek kitchen space with a contemporary design by painting old cabinets. Staining and painting your cabinets can be a great way to make them look new without blowing your entire budget. Choose from various finishes that allow you to keep the elegance while updating the cabinets' look. Ensure you use bold and vibrant colors.
If limited on space and you plan to create more space in your kitchen, remove the upper cabinets. Modern, open shelving gives you more space to display your favorite ornaments and dishware. Plus, it will give the room a less cluttered look.
3. Install a Kitchen Island
Whether renovating your entire kitchen or just looking for a little upgrade, consider adding a kitchen island to see the amazing results.
Oak kitchen islands are a great way to improve your cooking area. It is also a great place to accommodate party guests or do homework. You could even use it as an office. Not only does it provide an extra counter, seating, and storage space, but it can also instantly transform the look and functionality of your kitchen. In recent years, Oak kitchen islands have become a must-have for homeowners looking to upgrade their kitchens.
If you're thinking about adding a kitchen island to your kitchen, ensure you have enough room for it. Additionally, they come in different shapes. Choose the shape that best fits your space.
4. Refinish Your Kitchen Table
Custom kitchen tables are a great addition to any kitchen. They are where people congregate mostly, enjoy a nice meal, do homework, gather their thoughts, work on their laptops, or hang out with friends and family. The kitchen table is a center for family life and togetherness. A good table is a piece of furniture that will make a kitchen more inviting and comfortable.
The kitchen table is likely one of the most frequently used furniture in the home. It gets a lot of wear and tear, and eventually, its finish shows it. For example, you could buy a new farmhouse kitchen table, but why not give your current one a fresh coat of paint instead?
A great way to make a kitchen table look new again without buying a new one is to refinish it. Different wood varnishes are available, so choosing the best wood varnish for your needs is crucial. If you have a busy household with children and pets, you may want to consider a resistant finish to scratches and stains.
Choosing the right colors is essential to ensure your table looks great and fits well with the rest of your kitchen. One of the easiest ways to get ideas for a color palette for your kitchen table and chairs is to look around the rest of your kitchen. Pay attention to the colors already used in your space and try to find complementary colors.
Check out our guide on choosing the right custom table to learn more.
Key Takeaways
Renovating your kitchen can be a daunting task. You can opt for cedar countertops, custom kitchen countertops, custom kitchen tables, farmhouse kitchen tables, or an oak kitchen island. But with the right tips, it can be a lot easier and more fun.
Plan ahead.
Decide on your budget and stick to it.
Assess your needs and wants.
Choose the style of your kitchen.
Choose your materials wisely.
Think about your storage needs.
Modernize the cabinets and countertops.
Don't forget the lighting.
Consider your appliances.
Don't be afraid to get creative.
Give your floor a makeover with new flooring.
Sometimes the smallest changes can make a huge difference. A table cloth can also change the look of a kitchen table. The table will suddenly look new and different by adding a colorful or patterned table cloth. Whether you're looking to renovate your kitchen table, countertops, island, or cabinets, these tips should help you get started.
Boston's Custom Wood Furniture Experts
Saltwoods is a dedicated team of craftsmen who love using our hands to fabricate sturdy, functional, custom wood tables that cherish the real character of the wood. We show up early and work hard, doing our part in rejuvenating American manufacturing one project at a time. Our wood supplies originate from trade with Boston-area businesses, local mills, and salvage operations. We also fully customize your live edge table, including the base, legs, shape, and design.
If you're looking to accentuate your handmade wood table with furniture leg styles, please visit our sister site Högbo Metal for more information.