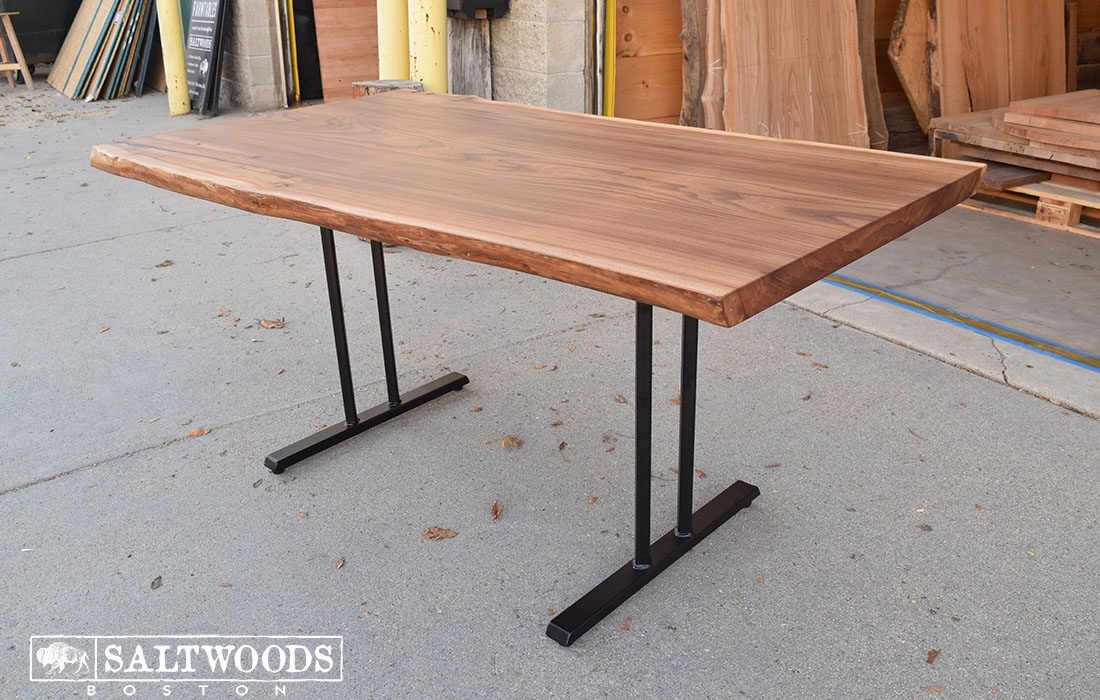 If you want to design a luxury space with a contemporary appeal, a live edge table might be the perfect addition to your space.
It is amusing to notice an elliptical growth in the popularity of live-edge tables made from raw wood slabs in commercial office spaces. Wood has caught the attention of modern-day designers and architects. Many modern commercial building designers are rooting for live edge tables to use as industrial conference tables or add to their living spaces. Live edge tables are a price of functional and robust furniture. They not only give a rustic look to your office spaces but have much more to offer.
Keep reading to learn how a live edge table can transform and revitalize your space.
The Origins of a Live Edge Table
In live edge tables, designers don't cut down the actual gnarled shape of the edge of a tree that lies beneath its bark. Instead, designers save the twisted form to create a raw look on the slab. In turn, architects and designers use these slabs for furniture like tables. In this way, live edge tables preserve the natural and austere beauty of the tree.
Some wood craftsmen and designers give the live edge tables a natural touch. They utilize the live edge tables to capture the irregular and organic beauty of the piece of wood. They also leave various natural traits like knots and cracks, which become attractive features of the live edge table.
4 Benefits of a Live Edge Table
Contemporary architects and interior office designers are ferreting around for ways to incorporate live edge tables into their office environments.
Here are top reasons why we think you should also install live edge tables to enhance the look of your commercial spaces:
1) Contemporary Design
Live edge tables convey a strong message about your business and brand. The premium design of live edge tables and furniture makes a contemporary and premium style statement. It will attract your clients due to its uniqueness and eye-catching designs.
2) Aesthetics
Wooden live edge tables enhance the aesthetics of your interior. Wooden material disperses a sense of warmth and comfort. Its grainy patterns can retain more of its natural wonder. Moreover, the neutral tones of wood do not conflict with the aesthetics and decor of your commercial spaces.
3) Complements Existing Decor
Today, live edge furniture is not limited to country homes or remote cottages. Wood is sure to complement your modern and minimalist surroundings. Whether you are designing a meeting room, conference room, or a quiet coffee space in your commercial building, live edge tables will fit the bill perfectly.
4) Sustainability
The live edge tables also promise sustainability. These tables convey an important message about your company's aesthetics and contemporary style statement. Recently, using wooden furniture stoked up recycling practices. Therefore, adding a live edge table to your setting also highlights your sustainable business practice.
How to Choose the Best Live Edge Table
When purchasing or designing your live edge table, it can get complicated, making the final commitment between various options. It would be best to consider all critical factors to make an informed decision since it impacts the overall aesthetics of your project.
Here are some essential factors you should look for while choosing a live edge table:
Wood Cuts
While designing or choosing between different live edge tables, one of the first things you notice is the woodcut. There are various woodcuts available in the market. Some examples might include:
1) Wood Slab
A wood slab is a lengthwise cut and has live edges on both sides. It is one of the antique and traditional designs. Interior designers use this type of design as a coffee table in spaces.
2) Slice or Tree Round
A wood slice, also known as the tree round, is a horizontal cut from the tree. This type of cut has a live edge all the way around. It also displays well-defined growth rings throughout the slice. You spot these designs as side tables.
3) Burl
If you are looking for a premium and expensive option, the burl is the right choice. Numerous trees have an outgrowth called a burl due to deformity. These burls are costly due to their alluring grain designs and patterns that retain a natural look.
Bowties or Butterflies
Bowties or butterflies are inlaid pieces of wood that lie across a crack in the tabletop. They help mitigate the crack from getting more prominent and add another style element to the finished work to enhance its aesthetics.
Barks
Depending on the type of table design you're opting for, the wood craftsman will decide whether to include the bark or take it off.
Table Legs
There are many types of table legs that may vary due to your materials. Solid metal legs are a trendy look and render a modern look. Metal legs are available in many colors like black, gold vein, penny vein, silver vein, etc. There are also various wooden legs that you may choose for your live edge table.
Key Takeaways
All in all, live edge tables give a high-end premium rustic elegance to your commercial spaces. It not only escalates the aesthetics of your interiors but also highlights your commitment to sustainability. Furthermore, live edge tables convey a strong message about your style and sustainable business practices.
Bring us your creative ideas if you're ready to install a live edge table in your home or business. We'll assist you in producing a top-notch piece of wooden work. Our exceptional designers and artisans can help you pair the best metal legs or wooden legs with your live edge table.
Boston's Live Edge Table Experts
Saltwoods is a dedicated team of craftsmen who love using our hands to fabricate sturdy, functional, custom wood tables that cherish the real character of the wood. We show up early and work hard, doing our part in rejuvenating American manufacturing one project at a time. Our wood supplies originate from trade with Boston-area businesses, local mills, and salvage operations. We also offer full customization of your live edge table, including the base, legs, shape, and design.
If you're looking to accentuate your handmade wood table with furniture leg styles, please visit our sister site Högbo Metal for more information.