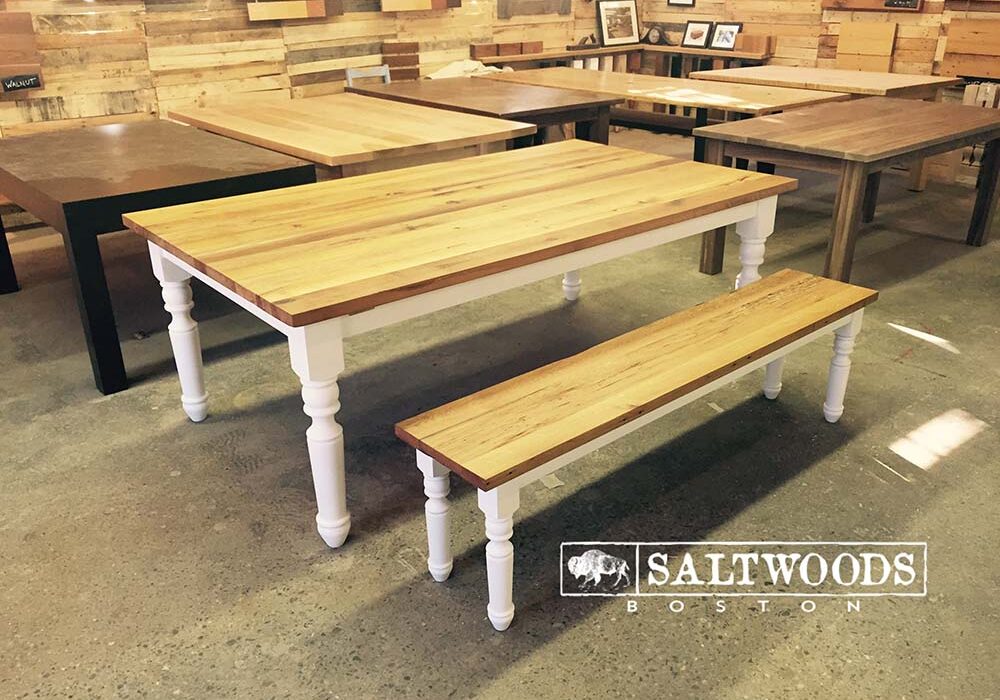 After days of rigorous work in your garage, with a couple of woodworker nicks visible on your hands, it's time to apply the finish on your tabletop and wooden table legs to restore it to its original grandeur. You need a high-quality wood varnish to maintain your table in perfect condition for years to come.
The right wood varnish on your table can enhance the true color of the timber, bring out its natural warmth, and deliver a lovely, rich surface. In addition, aesthetics is not the sole reason you should want the best varnish for your tables. Wood varnish also protects the wood and keeps it in perfect shape.
The Right Wood Varnish for Your Furniture
The keyword here is RIGHT. We understand how difficult it is for people tackling their DIY project at home to decide which varnish to use on their wooden tables. We get asked questions like what wood finish I should use or the best finish to preserve my wood?
Not all wood finishes are the same. Different types and products of wood finishes are available for different applications. There are other factors to consider, too, like, food safety becomes paramount when shopping for finishes for your kitchen table.
Hence, we have put together this guide to wood varnish to help you understand the pros and cons of each option. Read through it and learn how to narrow your options for a quality wood finish.
4 Things to Consider for Your Wood Finish
Before discussing particular products or even the different types of wood varnish available, here are a few attributes to consider.
Aesthetic
Beauty remains a top reason why we use varnish, and you need to consider how the finish will resemble. So, do you want to maintain the table's natural look, or you're happy to alter it? High sheen or matte finish? Will the finish change its color with time?
Durability
Protection is still a major reason why wood finishing is a desirable practice. You want to know whether your wood varnish can protect your table from spilled liquids or scratches.
Reparability
The fact is, finishes get damaged one way or the other. When considering the right varnish for your wood, the simplicity of fixing a scratched finish should be at the front of your mind.
Ease of Use
It's important to consider how easy the finish is to apply. If you're going to be applying a varnish, do you have all the necessary equipment to do it properly?
Types of Wood Varnish
There are several types of wood finish with each its characteristics. We elaborate on some of the most widely used products with the four considerations above.
1) Wax Wood Varnish
Wax is a popular option because it's one of the easiest to apply and also perfect for when you want to maintain the wooden table natural warmth.
Aesthetic
Wax is a good option to preserve the wood's natural look. With wax, expect little change in color and with little to no sheen.
Durability
Wax durability score is certainly not the best compared to what other types of vanish can offer. Wax doesn't get very hard, so it can be very susceptible to scratches. Also, it doesn't have high water protective characteristics.
Reparability
You can easily reapply wax when scratches occur. It's advisable to do this more than once a year to maintain a good level of protection.
Ease of Use
Wax is very easy to apply, and that's why it's so popular amongst DIYs enthusiasts. With the help of a rag or foam brush, you can apply a wax vanish liberally to the wood surface. You can easily wipe off any excess wax.
2) Epoxy Wood Varnish
Epoxy (bar pour) is common as a topcoat to finish tables and bar tops. They mostly appear in commercial applications like furniture stores.
Aesthetics
If aesthetics is the most important consideration you have when shopping for a wood varnish, then epoxy should be the least of your options. Epoxy finishes typically have a glossy appearance and are prone to discoloration over time.
Durability
Epoxy is certainly one of the most durable surface finishes you can find as a wood sealer. Epoxy is extremely scratch-resistant and liquid resistant. That's why they are so commonly used to finish bars, trestle tabletops, and restaurant woodworks.
Reparability
If the epoxy does get damaged, fixing it without leaving any noticeable mark is extremely difficult.
Ease of Use
It's safe to say epoxy is not the most user-friendly. To get the application of epoxy right, you need knowledge, experience, and a little bit of skill. So many things can go wrong, including bad mixing, air bubbles, and difficulty applying it to vertical surfaces.
3) Polyurethane Wood Varnish
Polyurethane is a popular wood finish that comes in a wide variety of formats. There are polys you brush, wipe, and spray on surfaces. Polyurethane typically gives a balanced performance across all our four different considerations.
Aesthetics
Polyurethane varnish is the most versatile, so you can certainly find one that gives your table your preferred look. Matte finish, glossy finish, somewhere in-between? There's a poly for you.
Durability
Polyurethane is either water-based or oil-based. Oil-based polys are the most durable. Although, oil-based polys are harder to clean up. Generally, polys are not as durable as epoxy but are far more durable than wax.
Reparability
The reparability of poly finishes depends greatly on the extent of the damage. For light surface scratches, wiping on the surface with sandpaper and reapplying another coat can do the trick. However, damages that go deeper into the surface require a more tedious process to correct without being noticeable.
Ease of Use
Polyurethane offers the best flexibility in its application. There are polys that you apply with a wipe or brush. Polys typically yield the best results when sprayed on the trestle tabletop. Also, many polys don't require mixing with a catalyst so that you can apply them straight out of the can.
Key Takeaways
So, there you have it. It doesn't matter whether you're finishing a tabletop, wooden table legs, tables of different wood table leg styles, or a kitchen table. You can narrow down your options using our guide above. If you're ready to install a live edge table in your home or business, bring us your creative ideas, and we'll assist you in producing a top-notch piece of wooden work. Our exceptional designers and artisans can help you by pairing the best metal legs or wooden legs with your table.
Boston's Handmade Wood Table Experts
Saltwoods is a dedicated team of craftsmen who love using our hands to fabricate sturdy, functional pieces of furniture that cherish the real character of the wood. We show up early and work hard, doing our part in rejuvenating American manufacturing one project at a time. Our wood supplies originate from trade with Boston-area businesses, local mills, and salvage operations. We also offer full customization of your live edge table, including the base, legs, shape, and design.
If you're looking to accentuate your handmade wood table with custom metal table legs, please visit our sister site Högbo Metal for more information.