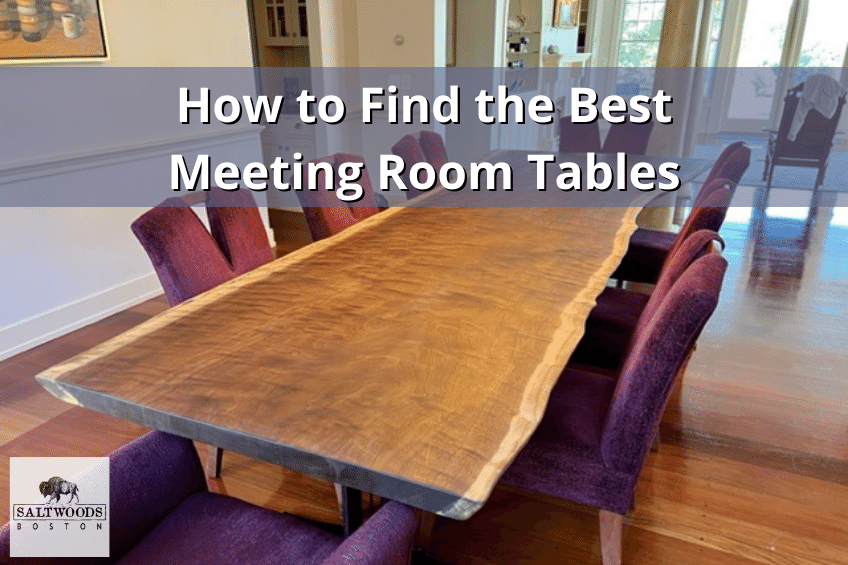 Meeting room tables are an integral part of any conference hall, allowing attendees to sit and work together.
Designing a meeting hall with the best tables is not an easy task. Many factors need to resolve before you finalize the decision. It would be best if you had something functional and stylish, and it has to fit into the budget.
Here are a few things you should consider before purchasing your new table.
Conference Room Furniture Function
When setting up your conference room, consider the function that your table and chairs will serve. What technology do you intend to use in that space? How does your furniture in the room support those needs?
The modern conference table has come far from the traditional boardroom table. It provides a space for important business meetings, but some also have built-in power strips for laptops. Others have dividers between seats so that people don't feel like they're sitting in on someone's conversation. 
Conference room furniture designers have introduced a new generation of highly functional and versatile meeting room tables. They allow employees to work more efficiently and be flexible about where they sit. 
Room Size
When it comes to conference room tables, size does matter. The size of the room you have to put it in is an essential factor to consider, so you don't purchase a table too big or too small for the space. Make sure you have enough space to accommodate everyone sitting around the table. You also don't want the table to take up too much space in the room, or it will become a hindrance instead of a help.
If your conference room is on the small side, you'll want to buy a smaller table, not something that makes the room feel cramped. A smaller table will fit comfortably in a small room and won't overwhelm the space. A good general rule of thumb is to leave 3 feet at the circumference of your table, which will provide enough space for people to walk around. 
To find out if a table is big enough to suit your needs, you can use a trial period to explore it first and then make the decision. Some stores allow customers to test items like conference room chairs and tables before purchasing.
Conference Table Shapes
Conference table shapes can either enhance or inhibit communication, and they can also make a statement about your company culture. A variety of conference table shapes are available to choose from, and the one you select will largely depend on the purpose of the table and the layout of the room. Here's a look at four common shapes worth considering:
Rectangular Meeting Room Tables
Rectangular conference tables are the most popular type and are perfect for board meetings, training sessions, and other gatherings. They provide plenty of space for group collaboration and offer a versatile surface to display presentations or other materials.
Not only do they provide a professional and polished appearance, but they also offer a variety of seating arrangements to fit the needs of your team. Consider a rectangular table if you're in the market for a new conference table.
Round Meeting Room Tables
Round conference tables are seen as more egalitarian and democratic, giving all participants an equal voice. This table type can be an excellent option for your office because it has various benefits.
It encourages equal participation, gives everyone a clear view of the person speaking, and is perfect for team meetings or brainstorming sessions. Round conference tables help create an open and inviting environment that encourages collaboration, increasing productivity.
Oval Meeting Room Tables
Oval conference tables are a subtle complement to many smaller offices. This underrated piece of furniture can be a great asset to your meeting space. An oval conference table creates a more intimate setting than a rectangular one, making it perfect for a large number of attendees in a limited space.
These office conference tables are often seen as more stylish and elegant than their rectangular counterparts, making a strong visual statement in any office setting. The curved shape of the table provides a more comfortable and welcoming environment.
Square Meeting Room Tables
Square conference tables are also popular and perfect for square-shaped conference rooms. They allow people to face each other more easily, promoting better communication. And because square tables take up less space than rectangular ones, they work well in small meeting rooms.
They also offer many advantages that rectangular ones don't. For starters, they create a more open and inviting atmosphere. Employees feel more included when seated at a square table than at a rectangular one.
Ideal Width and Height for Meeting Room Tables
A custom office table comes in a variety of widths and heights.  
| | | | | | | |
| --- | --- | --- | --- | --- | --- | --- |
|   | 2 seats | 4 seats | 6 seats | 8 seats | 10 seats | 12 seats |
| Rectangular Tables | 61x76cm | 122x91cm | 183x91cm | 244x110cm | 305x120cm | 366x135cm |
| Oval Tables | 61x76cm | 122x91cm | 183x91cm | 244x110cm | 305x120cm | 366x135cm |
| Round Tables | 92cm | 122cm | 152cm | 183cm | 244cm | 274cm |
| Square Tables | 76cm | 92cm | 122cm | 183cm | 213cm | 244cm |
Aesthetics
A well-designed meeting room is essential for productive meetings. Good and attractive design will make your workplace more pleasant and increase productivity. Real wood furniture also lessens stress and makes everyone in the company happier, which is great for staff morale. 
With the table at such a visible spot in the average meeting room setup, use it to display your company's personality with an appealing design. The right conference room chairs can tie your contemporary aesthetics together.
Décor Style
There are many different choices when it comes to style. You can opt for traditional, modern, or industrial conference tables − whatever suits your décor.
Material
The materials you choose will also affect the look and feel of your meeting room. Tables should use easy-to-clean materials like reclaimed wood, glass, or metal. Wood is a popular choice because it is durable and can be stained or painted to match any décor.
Glass conference tables are elegant, sleek, and modern but can be fragile. Metal conference tables are a great way to add a touch of style to your office. Not only are they stylish, but they are also very durable. They can easily withstand the wear and tear of daily use.  
Varnish
Varnish helps protect the wood from abrasions and scratches. It also makes wood waterproof, so it wouldn't rot or get damaged by moisture. If you intend to use the table for meetings, you may want to choose a finish that conveys an air of sophistication or professionalism.
Consider your surroundings and decide whether you want your table to stand out or blend in. A glossy finish will make your table shinier and more reflective, while a matte finish will soften the look.
Finding the best table for your office can be a hassle and take time. By understanding the different types of industrial conference tables available and the features you need in a table, you can find the perfect one for your meetings. Click here to read more about types of varnish for your wood furniture.
Boston's Custom Wood Furniture Experts
Saltwoods is a dedicated team of craftsmen who love using our hands to fabricate sturdy, functional, custom wood tables that cherish the real character of the wood. We show up early and work hard, doing our part in rejuvenating American manufacturing one project at a time. Our wood supplies originate from trade with Boston-area businesses, local mills, and salvage operations. We also offer full customization of your live edge table, including the base, legs, shape, and design.
If you're looking to accentuate your handmade wood table with furniture leg styles, please visit our sister site Högbo Metal for more information.