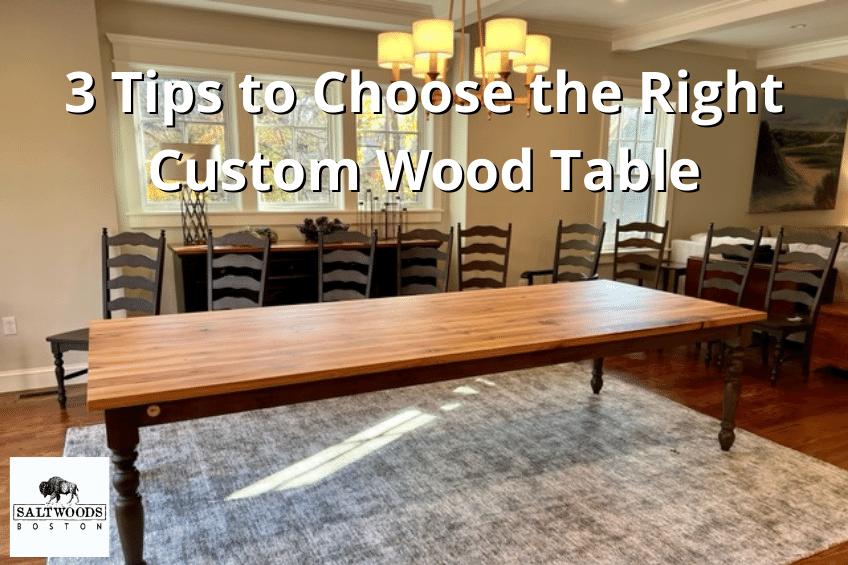 When furnishing a space, every decision becomes crucial to make the most available room. This decision is especially true when choosing a custom wood table.
Whether you're hosting a holiday party or a business meeting, the size of your table determines how many people can fit around it and how much seating space is available, as well as how much open space is left. When buying new furniture, consider the size of your room and choose the right table size for your needs.
Here are three tips to help you pick a custom wood dining table or a trestle table for your living room or office with no regrets.
1) Determine Your Table Style
A table is an essential part of many homes and offices, so being thoughtful about the size can be important.
Choosing a table that suits your needs will make gatherings easier, allow more people to fit into your space, and help with other aspects of hosting.
Measure Your Room Size
Are you using your custom wood table for business or frequent dinner parties? Do you plan to use it in your office, for homework, or meals? Regardless of the situation, first assess the space you have.
Once you assess the size of the room, you can choose a table to fit. Too often, people choose a table too large for their space. A large table makes the room feel uninviting and smaller than it is.
On the other hand, if you choose a table that's too small, you end up with cramped seating and not enough space to move around. People don't like feeling cramped up at a custom kitchen table while enjoying a meal.
Choose a Material
The material you put in your space matters in interior decor. The table is the centerpiece of your room and can be a focal point for its design.
Choosing the right table material can make the difference between a room looking basic and great.
Real wood furniture has been strong, durable, and reliable for centuries as a table material.
A solid wood dining table is popular because it is versatile and can match any décor. A maple wood console table is ideal for living rooms or an end table.
Glass tables are elegant and chic but can be fragile. They do an excellent job at creating a sleek and modern presentation.
Metal tables are also popular, especially for industrial décor in workshops and art installations.
Find a Wood Varnish
Given that you use your table every day, it's essential to have one with a high-quality finish to make your table more durable and give it a beautiful texture.
Examples of table varnishes are spirit, acrylic, exterior, polyurethane, yacht, and oil. For more information, check out our guide on finding the best wood varnish.
Select Your Table Style
There are many styles of tables available to choose from, and it can be hard to decide which type suits your lifestyle best. The kind of custom wood table you choose should reflect your style of living with the ability to accommodate guests.
You can choose Boston custom wood furniture or a farmhouse trestle table if you value rustic, handmade design. You can as well try something modern or extravagant to suit your style. It all depends on your preference.
2) Determine Your Table Shape
Rectangular Tables
It's hard to imagine what room wouldn't look good with a rectangular table. A sleek rectangular table can blend in and won't take the focus away from the room's design.
Consider a table size from 36 to 42 inches wide to ensure enough space. Rectangular tables are an excellent choice for large groups because they can seat more people.
They are perfect for narrow spaces but do not work well in small rooms. Unlike round tables, they don't encourage conversations.
Oval Tables
Oval tables are similar to rectangular tables, but they have curved edges. They serve as terrific maple wood console tables.
Since oval tables occupy less space than rectangular ones, they are a great choice for narrower or smaller spaces.
When you need to seat more people at once in a room with limited space, the best option would be to use an oval table.
Round Tables
This type of furniture is perfect for small groups and looks good in square-shaped rooms. Round tables encourage conversations since everyone can see each other.
The setting also has a more intimate and cozier feel to it. Round tables are not ideal for large gatherings. For that, you would need an even larger round table.
However, the downside is large round tables make conversations difficult. Other people may seem far away, so you may have to speak louder when talking to them.
Square Tables
A square table is perfect for a square-shaped room. While rectangular tables can be great for large groups, square tables typically allow a small number of people to be seated more intimately.
Square tables are great for events that need to accommodate just a small number of guests. A rectangular table can be awkward when only two or three people are around.
Hence, the best option is to use a square table, which is more intimate.
3) Determine Your Table Size
A small custom wood table might be the best size for you for a small space. But a larger solid wood dining table may be necessary if the room is big enough and you have a large family.
Ideal Table Width and Height
A custom kitchen table comes in a variety of widths and heights.  
| | | | | | | |
| --- | --- | --- | --- | --- | --- | --- |
|   | 2 seats | 4 seats | 6 seats | 8 seats | 10 seats | 12 seats |
| Rectangular Tables | 61x76cm | 122x91cm | 183x91cm | 244x110cm | 305x120cm | 366x135cm |
| Oval Tables | 61x76cm | 122x91cm | 183x91cm | 244x110cm | 305x120cm | 366x135cm |
| Round Tables | 92cm | 122cm | 152cm | 183cm | 244cm | 274cm |
| Square Tables | 76cm | 92cm | 122cm | 183cm | 213cm | 244cm |
Extension Tables
Extensions are a great way to extend the seating capacity of a custom kitchen table. They have a tabletop that you can extend by pulling out the leaves on either side. This feature increases your custom wood table size, allowing more people to sit comfortably. It's worth considering one for your home!
When it comes to dining tables, think about a piece that looks amazing in your home and fosters an intimate experience for you and your loved ones. You're not just buying a piece of furniture when you shop for a custom wood table. You're picking a statement piece that connects you with guests and family.
Boston's Custom Wood Furniture Experts
Saltwoods is a dedicated team of craftsmen who love using our hands to fabricate sturdy, functional, custom wood tables that cherish the real character of the wood. We show up early and work hard, doing our part in rejuvenating American manufacturing one project at a time. Our wood supplies originate from trade with Boston-area businesses, local mills, and salvage operations. We also offer full customization of your live edge table, including the base, legs, shape, and design.
If you're looking to accentuate your handmade wood table with furniture leg styles, please visit our sister site Högbo Metal for more information.