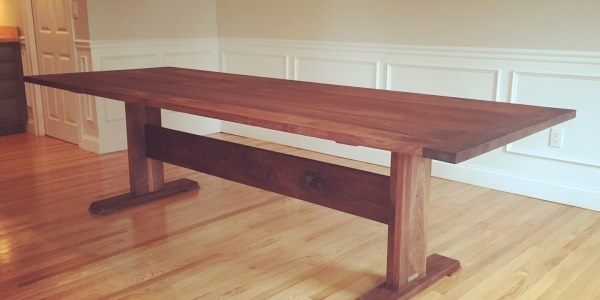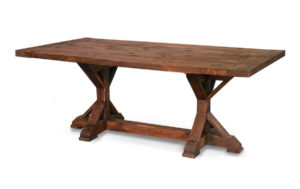 A trestle table is the ultimate sign of hospitality. Why? There is an equally comfortable space for each seated guest. The trestle table is admired for its support system that unlike four-legged tables does not hinder the guest seated at each corner. Consider a Saltwood's trestle table in your dining room as a symbol of hospitality and comfort for your guests.
A trestle table is a symbol of Americana, accompanied most often by spindle-backed chairs although it would not be out of place with a pair of two benches. Although a symbol of Americana, the origination of the trestle table comes from the European continent.
The origins of the trestle table lie in the Middle Ages where long boards were laid over two or three cross supports for easy assembly for large gatherings. Over time these boards were nailed together to, you know, make them more sturdy. The earlier versions of these tables remained narrow. Why? In earlier centuries, diners ate on one side of the table with their backs against the wall while being served from the other side. Diners sat facing out so that in the case of an attack or unwanted visitors the tables could quickly be flipped and used as a defense mechanism. These are anecdotes from David Knell's "English Country Furniture: 1500-1900."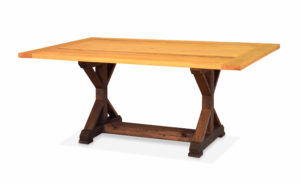 If you would like to see some of our trestle table options visit our tables page here. If you would like your own hospitality center piece, give us a call and let's talk about the details.