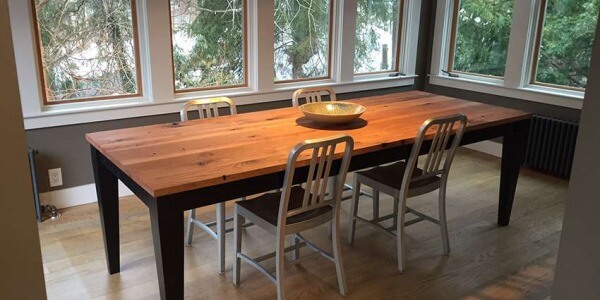 Nothing is more inviting than a rustic and warm farm table to soften any kitchen or dining area.
These tables are inspired from the utilitarian designs found in American homes of the 18th and 19th centuries. They were often built from wood found on the farm property, usually rough planks of fir and hemlock, and most commonly by the proprietors themselves rather than a skilled artisan furniture maker. The idea was to construct on a sturdy and functional design, rather than ornamental detail and refinery.
Today, farm tables can add an antique and traditional look to any interior. Simplistic designs and lines allow them to work well with modern, industrial, retro, or just about any interior style. A variety of chair styles can complement the set as well; windsor, mission, upholstered, metal, and/or benches.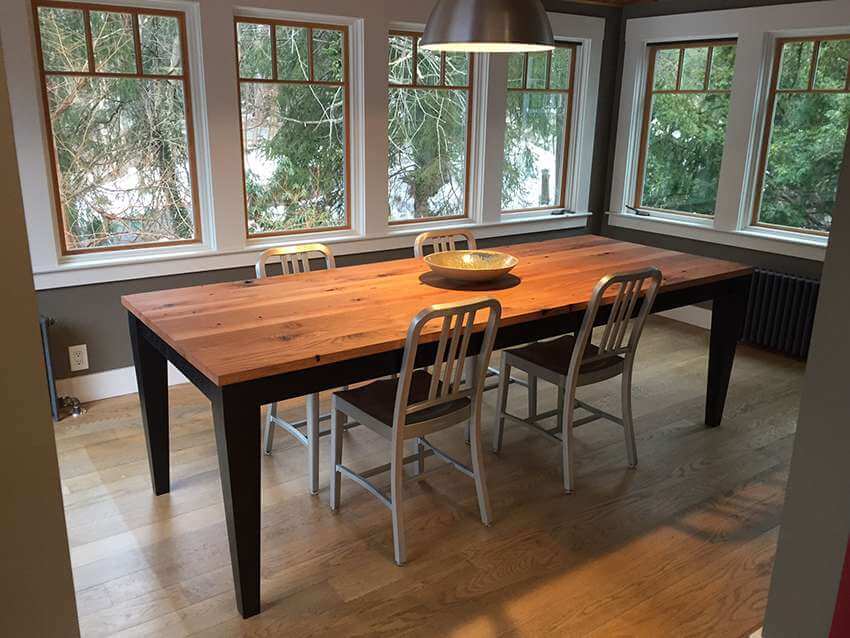 This table and bench by Saltwoods near Boston, is most representative of the style featuring solid reclaimed oak and a warm, rich danish oil finish. Created from 200yr old boards salvaged from an old tobacco barn near Lexington, KY. Black stained tapered legs are traditional yet modern enough to fit in a variety of setting. Here the owner complimented the set with simple smooth retro aluminum 'navy' side chairs.
If all the dark from the table base and wood is too heavy for your space, go with a light white stained or painted base to lighten up the look. This set below really lightens the space up and embodies the farm table look, or even beach house style.
'Take aways' for farm table designing:
   Stick with hardwoods; they will last a lifetime and are worth the investment
Keep it simple; natural color tops will never go out of style. If you really want to color the base, stick to traditional colors like brown shades or black, white, or grey. The shabby chic trend of turquoise, bright greens, reds, and/or pastels may make you sick in a few years.
Avoid middle extensions/leafs. These literally separate your table into pieces and your table will not be as solid and strong, especially down the road. If you must go with the add-on, opt for company boards. These are added onto the ends and maintain the strong structure of the table