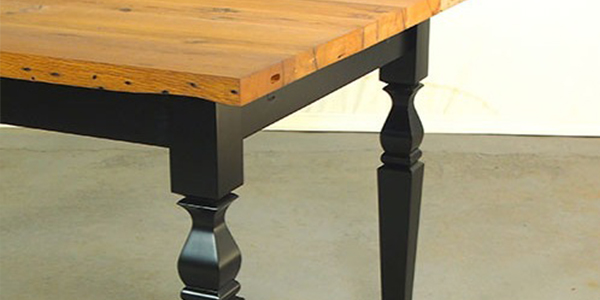 Since we specialize in custom made farm tables from reclaimed wood, I help customers every day design and configure their table to match fit in their dream house and kitchen. Now there are a lot of options, styles, and features available when making a table. There is the time-tested classic or traditional style, the new and trendy shabby-chic, contemporary, rustic, reclaimed, and many more. The builds can be very different as well; rectangular, round, oval, trestle, x-framed, turned legs, straight legs, tapered legs, or even steel legs for the more industrial table. As far as features you can have company boards, beveled edges, soft edges, long or short apron, and even. As you can see making a table can be very overwhelming with options. So with this in mind, a lot of people ask me for my professional opinion as to what I recommend for them and what would fit best in their kitchen and/or dining area.
Tip #1 – I find that there are two ways to go about designing the area: one is from the outside in and the other is from the inside out. This means either fitting the table into it's surroundings, or more apt for people moving into a new home or renovating one is to allow the table to be the centerpiece and command attention. Either you have your kitchen/dining area finished and are looking for the perfect table, or you want the warmest most inviting table imaginable and the area around it outfitted with complimenting decor. The table is the more important piece of furniture in your home; its where we eat, talk, laugh, work, play, and gather. Make it count!
Tip #2 – Key concept: 'compliment' vs. 'match'. The days of matching the floor exactly to the cabinets, or the refrigerator color to the tile color are becoming almost tabu. We can never get it perfect, so why try to make it look like we tried. Allow colors and tones to compliment one another; shades working well together. Think shades of browns, shades of grey, and shades of white. Not only more natural but also easier to achieve. The table top does not have to be the exact same color as the legs or base. Real woods have grain, and each grain cut can take stains differently. A reclaimed oak top often looks better on new oak legs. An 'all" reclaimed table sometimes looks too rustic. New oak base allows for cleaner lines and more consistent staining and coloring. A different base also allows the base to pop up and be more impressive. Nurture and encourage this contrast.
– Tip #3 – Keep it simple! Classic colors such as chestnut brown, espresso brown, black and natural never go out of style. A lot of people love the energy and feel of the shabby-chic reds, blues, greens, and turquoise but I am fearful that one might get sick of looking at it in 3-5 years. The woods we use are of very high standards and quality. They look beautiful in there natural state. Show off the grain when possible. Wood is timeless…less is more.
Feel free to give me a call if you have any questions, concerns, or just want to run a few ideas by me. I am happy to help in whatever capacity I can.
Cheers, Dan from Saltwoods.com